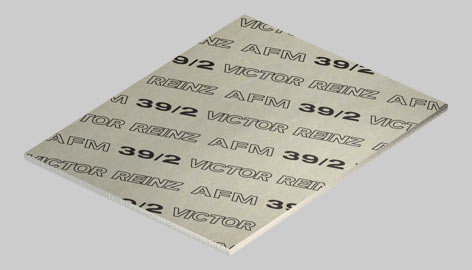 AFM 39/2 is an asbestos-free gasket material. It consists of aramide fibers and other substances that are resistant to high temperatures and are processed with high-grade elastomers under elevated pressure and temperature.
Properties:
The gasket material is physiologically safe and does not contain any colour pigments.
On the one hand, this economical gasket material is conformable and flexible, which ensures adequate sealing even with low surface pressure. On the other hand, it provides adequately high stress resistance coupled with good gas sealability.
In addition, AFM 39/2 is resistant to solvents, oils, fuels, water, and many other media.
Application:
for sealed joints that are subject to moderate thermal and mechanical stress
for lightweight components and flanges
for apparatus, transmissions, pumps, sanitary fittings
for sealing lightweight components with comparatively low surface pressure, e.g. transmissions, valve covers, oil pans and covers in IC engines.
Thanks to its physiological harmlessness AFM 39/2 can be used especially also in the drinking water and foodstuff sector
Surfaces:
As standard, both sides of AFM 39/2 are coated with a non-stick, high-friction layer that greatly facilitates disassembly. In most cases, additional surface treatment is unnecessary.
Approvals:
Elastomer guideline (formerly KTW) / DVGW Microbiological suitability / Germanischer Lloyd (DNV GL)